RV Fridge Maintenance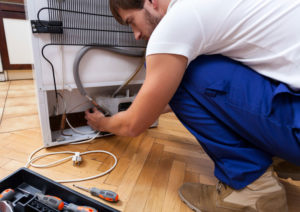 RV Fridge Maintenance Article from The Motorcoach Store
One of the best parts of owning an RV is all the features that come with it. The conveniences from home that make daily life easier and more efficient all get to go with you to your next camping destination. And because they play such a big role in making your RV experience more enjoyable, you'll want to take some time to make sure everything is functioning properly, starting with your fridge. It's easy to ignore fridge maintenance since they're relatively durable and reliable. Odds are, you won't run into many challenges, but there are a few frequent tasks that you'll want to do right in order to keep your machine running properly.
The Motorcoach Store has provided you with a breakdown of some of these tasks, but as you're caring for your RV fridge--or using it--you may notice an issue that needs repair. For advice on how to approach these problems, talk to our mobile RV service department, proudly serving all of Florida, including Sarasota, Tampa, Fort Myers, and Lakeland.
Preparing your Fridge for Travel
Even if this isn't your first trip this season, you might be taking your RV out of storage for the next trip. At the very least, you probably shut everything down to prevent creating a power suck. Because of this, you'll want to take some time to get everything, ready for travel again. When it comes to your fridge, you'll want to make sure you start by pulling out your owner's manual.
The basic steps you can take to prepare your fridge for travel should start with an overall inspection. This can range from simply cleaning out the dirt and grime to checking for functional issues that need to be addressed before you leave. The last thing you want is to suddenly have a machine that isn't going to keep your food cold and be scrambling to find enough coolers to make up the slack.
When you get closer to the day of the trip, take some time to hook up your RV and cool off the fridge before putting food in it. This way, there's no temperature fluctuation for your food and your fridge doesn't have to put in more work to reach the temperature you'll need it to reach.
Post-Trip Defrost
When you come back from your camping trip, if you're putting away your RV, even if it's only for a week or two, there's no need to keep it running in that time frame. It'll just be wasting energy and money. But if you're turning everything off, you'll need to take some time to defrost the fridge. The only thing here to keep in mind is that the water has to go somewhere, so open the doors to speed up the defrost process and lay down some towels to collect the water.
Safety Tips
When you're working with your fridge, there aren't many hazards, but you'll want to be aware of the few that come up. When you're performing maintenance, make sure you clear your area of any flammable objects, especially if you're working with the electrical grid. Also, if you need to work on the vent and get on the roof of the RV, make sure there's someone there to spot you.
At all times, if you smell ammonia in your RV, you might be looking at a leaking fridge. Turn off your machine immediately. Ammonia can not only damage different parts of the appliance, but the fumes can also be harmful to you and your family. Turn everything off and air out the rig. Don't turn the fridge back on until it's been inspected and fixed by a professional.
With the right kind of diligence and upkeep, you can keep your RV running smoothly for years to come without major repairs. But this is just one area where you can take care of your vehicle. For more thorough RV service and repairs, or if you're still looking for the perfect rig, stop by The Motorcoach Store and let one of our experienced staff solve your RV related needs. We welcome all current and future RV owners from cities across Florida, including Sarasota, Tampa, Fort Myers, and Lakeland.